Attendance 10 most bizarre hotels worldwide
"For my part, I travel not to go anywhere, but to go. I travel for travel's sake. The great affair is to move." – Robert Louis Stevenson
Image Credit : wikiHow.com
Some properties are not only a place to stay travelers back to visit but also exciting destinations. Design, unusual décor and rare materials are the characteristics of the most exotic hotels this world.
Here is a collection of both exotic hotel, just very comfortable and sumptuous .
Vacation
⦁ Hang Nga hotel , Vietnam
Hang Nga hotel also known as "mad"
Hang Nga hotel also known affectionately as the "Crazy House" is a popular destination of tourism city of Dalat. This house has similarities with the bizarre works of architect Antoni Gaudi Spanish but it is like a palace in the Disney cartoon sorted -randomly.
The winding paths in hotels
Some tourists come here just to walk through the winding pipe, visit the rooms are designed bizarre and mysterious nooks .However, they can also spend the night in one of the rooms of the guest house. The bedrooms are designed with exotic themes like the look of the building.
2. Propeller Island Hotel, Berlin
Propeller Island Hostel looks pretty tedious bring but hides many interesting
The hotel's exotic Berlin were pushed to a new level. Each hotel has a unique theme focusing on the differences. In one room, the bed is divided into two single beds by modeling a gruesome guillotine. In another room, a bathtub is modeled as a giant nylon bag. The room interiors and designs like cell or crypt.
Each hotel has a unique theme
A more detailed definition makes the hotel unique is if you spend the hotel, you must take a camera away. Hotels recording sheet notes that: "Hostel City Lodge is a work of art and the artist created this work owns the copyright to everything in the hotel. This means "room rate does not include the right to photograph, film" without the consent of the hotel .Without the official permission of the responsible person .
3. Hotels Ice, Quebec
Hotel Glace is the gorgeous hotel made of ice
This hotel is located in the coastal city of Quebec, Canada and is only open in the winter for a very simple reason: it is made entirely from ice. Hotel the Glace has some room change with every winter because it was rebuilt after a year when the weather is cold enough. Some rooms have snow sculptures and fireplaces.
You can sleep soundly despite being located in the room is like in the Arctic
Light is cleverly arranged to radiate the shimmering beauty of ice to create an atmosphere extremely romantic. The interior is designed so you can sleep soundly despite being located in the room is like in the Arctic. Room rate per night of at least US $ 400 , the experience here is not cheap but you will not find anywhere else in North America have a unique property like that .
4. Kumbuk River Resort, Sri Lanka
Sri Lanka Resort has an ecological environment very noticeable
Sri Lanka Resort has an ecological environment is remarkable. It lies along the river Kumbuk Yala national park, one of the adventurous nature of Sri Lanka's largest. It is the roof of the elephant and many other interesting animals.
Furniture in resort mainly made from wood
Each of the resort area Kumbuk designed with an animal theme. In it, the villa Elephant is a unique area of the resort with houses made of wood and thatched roof. Thatched roof of this two bedroom villa really is shaped like an elephant (with shower, two ears, eyes…). In addition, there is a zone Kumbuk "tree house" with high-class interior and a resort designed as homes in rural areas of Sri Lanka.
5. Cluster tower Ariau Amazon, Brazil
Cluster Amazon Ariau towers are circular structure built on the water
Cluster tower is the circular structure was built over the water and linked by bridges work in movies like War between the stars. However, nothing is fiction here . The resort is a convenient base for guests interested in exploring the surrounding tropical forest along the majestic Amazon river and its tributaries.
This is a convenient base for guests interested in exploring the surrounding rainforest
Ariau resort located on the Rio Negro tributary center about 48 kilometer Amazon region . Guests here can follow the tour by canoe and have a chance to make friends with the very rare pink dolphins.
6. Hotel Cappadocia caves, Turkey
Cappadocia known for a series of cave houses
Cappadocia is famous for the most interesting history in Turkey with a series of cave houses in the area previously owned by the Hittite period Roman Empire. The hostel is located in the city caves Goreme is built in the structure of the old stone house has attracted many tourists to the area.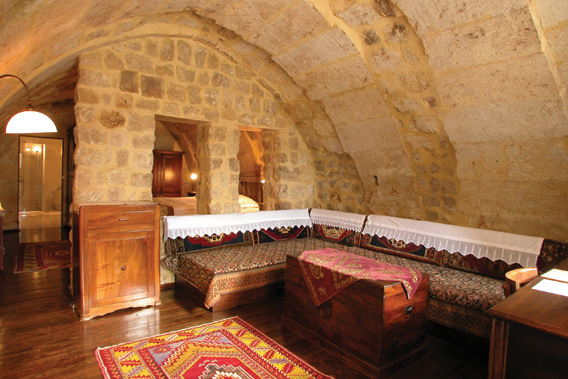 Rooms inside are equipped with full amenities
Each room in the hostel brought a distinction to not overlap. Although the design of premises like caves but visitors are met fully equipped with Internet , a bar and a coffee maker , so guests will not have to live like those who view ancient Cappadocia.
7. Hotel Juvet, Norway
The hotel is situated in a valley Juvet river
Norway Hotel was designed and minimalist modern can make contact with nature wherever you are. The hotel is located in river valleys with beautiful landscapes. Summer with a flood, and peaceful winter with snow white carpet. There is so much scenery to admire travelers whether in season.
This is the perfect choice for those who prefer closeness to nature
Design shapes with lots of windows create a modern feel combined with the natural surrounding the hotel make attractive Juvet separately, both equally rustic modern medium.
8. Hotel Kennedy School, Portland
Hotels which is a school in Portland, USA
You doze off in class does not matter. This case is commonplace at the Kennedy School, the hotel was rebuilt from an elementary school in Portland nearly 100 years ago. Some of the hotel's 57 rooms is actually the old classroom with blackboards, desks and teaching equipment remained intact.
Imprints are still completely original school
Currently, this building has a movie theater, many small bars with different themes, a pool and a brewery. These murals and other artworks radiate the characteristics of the origin of this place.
9. Free Spirit Spheres Hotel, Vancouver Island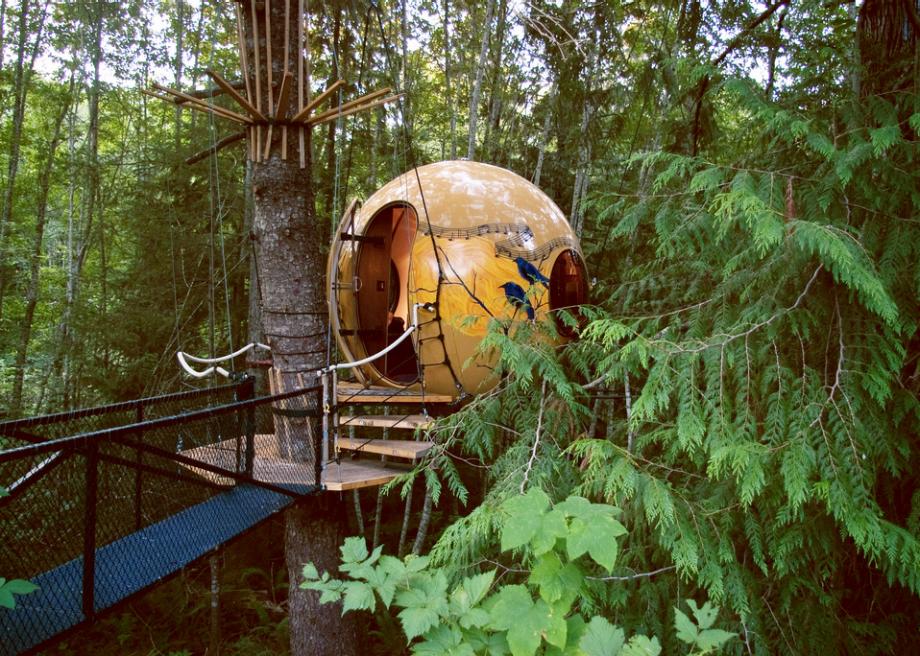 Free Spirit Spheres are the spheres hanging from tree
Free Spirit Spheres Hotel on Vancouver Island include the spherical chamber was hung on the tree like Continental blocks hang on the Christmas tree. We also rotate slightly as the wind blows through this jungle.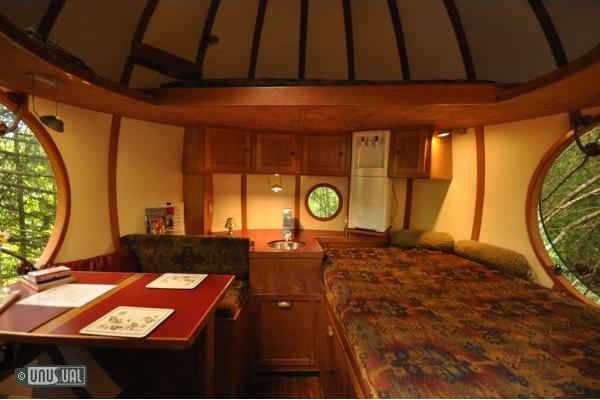 Visistor will be spoiled scenic surroundings from above
Visistor can choose one of three spherical chamber named Eve, Eryn and Melody. Each such chamber is made from a material particular and according to a different theme.
10. Das Park Hotel, Germany and Austria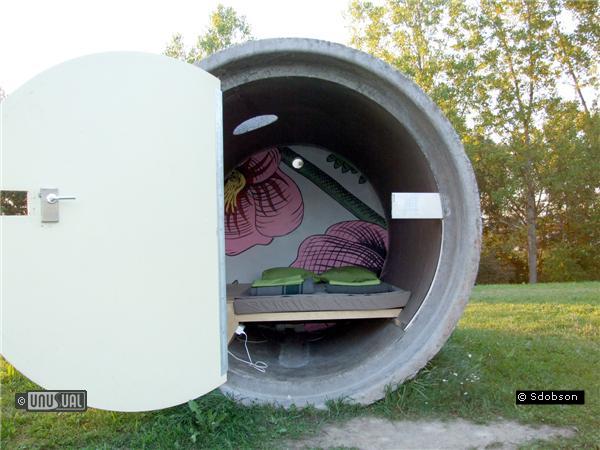 Das Park Hotel looks like a construction zone
Themed hotel industry lies in the area bordering Germany and Austria.New glance, you might mistake this is a construction zone because the room was made of huge concrete pipe capped at both ends.
The space inside is quite cozy
Each tube is equipped with a bed, lamps and wall paintings. Although not luxurious, but the rooms are designed to create a warm feeling of comfort and privacy are adhered to.
Source : MNN